Art Retreats, Art Breaks & Painting Holidays

Enjoy an individually designed Art/Photography Break, Creativity Retreat or Painting Holiday in the countryside at Bressingham, South Norfolk




Enquiries and Bookings: Phone Zangmo on 01379 897393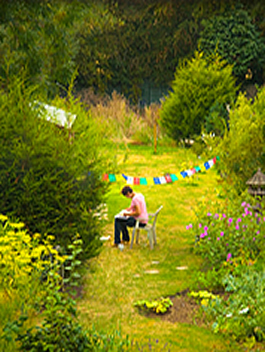 Would you like time just for yourself - from half a day to over a week in beautiful rural surroundings - to explore or study Art or Photography with an experienced, patient, encouraging and inspiring art teacher and artist, who will coach, support and guide you in what you want to explore? Your art retreat or art break will be a drawing or painting course, digital photography course or creativity coaching experience individually designed and personalised to meet your own unique needs and interests.
Everyone is welcome, from absolute beginners to experienced. This can be a special Art Break, just for you, to pamper yourself, discover more about yourself, relax and enjoy yourself.
Art Retreats, Art Breaks and Art Holidays in Norfolk with Zangmo Alexander are entirely flexible to suit your needs, aspirations and interests. They are all individually tailor made to suit your interests and wishes. Beautiful accommodation is available within 1 mile, as are excellent road and rail links.
Reasons for wanting to do a creativity retreat, break or holiday may include:
Working through creative blocks to free oneself up creatively

To discover a new way of working creatively with drawing, painting, mixed media or digital photography

Intensive creative exploration of a theme of personal interest to get going on a new project

Some peace and quiet in a supportive atmosphere

Explore contemplative or meditative approaches to art

Have a break with space to relax, centre oneself and destress

Have a concentrated period of time to learn new skills, techniques, and explore new media
How to organise a personalised Art Retreat with Zangmo Alexander
Phone Zangmo on 01379 687360 to explore options, talk through what you want, and clarify whether an Art Retreat is what would benefit you.
Group Art Retreats with Zangmo Alexander
If you and your friends or group would like to do a personalised Art Retreat together, you can either visit South Norfolk or invite Zangmo to facilitate an Art Retreat at a place of your own choice, either in the UK or internationally.
Accommodation
There is an excellent, friendly B&B 1 mile away, which is of an exceptionally high standard, offering evening meal and packed lunches if needed.
Transport
I am about 3 miles away from Diss railway station, which is on the Liverpool Stree to Norwich line.
Enquiries and Bookings: Phone Zangmo on 01379 897393